SWICOFIL AT TECHTEXTIL (24. April 2019; ar)
HAPPY NEW YEAR (21.December 2018; ar)
We have pleasure to say "Thank you" for everything in this highly educative 2018 and we expect a successful and exciting 2019. The door is wide open for all new orders and wishes from you.
Just to mention your business, the meetings and discussions, your kindness and friendship, your support and loyalty - thank you.

Wishing 2019 to be full of great solutions and abundant opportunities and of course full of happiness, good health and success. Seasons greetings to your staff and to your family members.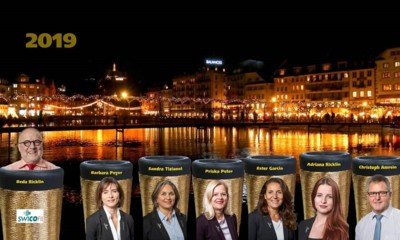 GLOBAL SHORTAGE OF POLYAMIDE 6.6 POLYMER (07.December 2018; ar)
The delivery situation for PA 6.6 raw material has come to a critical point that makes it difficult to guarantee supply for future orders of PA 6.6 yarn.

In the past we have communicated that the main suppliers of PA 6.6 raw material have declared "Force majeure" on PA 6.6. The situation looks very much like lasting well into the future. Once the current production limitation will be solved, the largest European producer of ADN (Butachimie/FR) have planned to shut down their largest reactor for a retrofit in Q2/2019. This results again in a reduction of
capacity of >120'000 tons of ADN - equivalent of approximately 250'000 tons of PA6.6 polymer - will not be available for the market.
HIGH CONDUCTIVITY MEETS YARN (02.November 2018; ar)
You need the perfect combination of high conductvitiy and characteristics of a textile yarn? - SwicoSilver HiCon!
SwicoSilver HiCon yarn for applications where extraordinarily high conductivity and textile flexibility as well as robustness are required (> 0.05 ohm/cm).
Click here for more information on SwicoSilver HiCon yarns
or
contact us
!
SUPPLY OF CASEIN FIBER RESTRICTED (18.October 2018; ar)
We regret to inform that the supply of casein / milk fibers and yarns is currently strongly restricted worldwide. We expect the lead times to normalize earliest in March 2019.
We try however everything in our power to accelerate things and to ensure a quick fix of these circumstances so that we will be able to supply you with casein fibers and yarns the earliest. In the meantime, please contact us for possible replacements such as soybean fiber or other.

We sincerely apologize for these circumstances and thank you for your comprehension.

Your Swicofil team
NEED IMPORTANT INFORMATION? (30.August 2018; ar)
In case you are urgently looking for some information that were on the old website, however are not yet to be found on the new website or if you used our website as a reference in a paper:
Our old website is online again - however at a new place. Please refer to
old.swicofil.com
in case of such an emergency. Everything has stayed the same there except for the prefix "old.".
It will stay online until the new homepage will be fully fitted with every piece of information one could retrieve from the old one.

Your Swicofil team


WE ARE UPDATING OUR PRODUCT PROGRAMME (29.August 2018; ar)
In case you have been a Swicofil customer for a long time, you maybe might already have noticed that there is not yet every material listed yet in our
product list
on the new homepage. But no worries! This does not mean that we have reduced our product programme!
We are still
continuously perfectioning our homepage
to include every bit of information available - this however means things take some time in regard of our very limited number of staff (and as we still would like to pursue our daily business - meaning helping you finding the perfect yarn or fiber solution to your project).
Step by step, products will therefore be updated respectively added.

Furthermore, we are currently still waiting for a DNS entry for our old website so that our customers and everyone interested can retrieve information in case it would be urgent. We hope that the responsible company will soon act upon our request as we have been waiting for this DNS entry for quite some time now.

Therefore please do not hesitate and contact us in the meantime with your request for more information on a specific material!
For your information, it is planned that until Friday (31.August 2018) the following materials will be completed / go online:
chitin / chitosan
nettle
paper yarn
bamboo
hemp yarn
PVC
stainless steel yarn
silk
We are looking forward to hearing from you!
Your Swicofil team
WELCOME TO A NEW ERA (26. August 2018; ar)
Welcome to the new Swicofil homepage!

After a long due make over, hundreds of hours of planning and realizing and a lot of concentration, sweat and effort, we are proud to present our new website.
Please feel free to browse around and to discover every aspect.

We put all our heart in in order for you to experience the Swicofil world the easiest way possible.
In case you have got any question or feedback, please feel free to contact us.

We love to serve you well!
Your Swicofil team