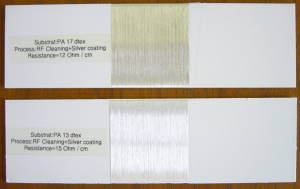 PA 6.6 monofilament plasma silver coated
dtex 13 & dtex 17
Plasma silver coated yarns in polyamide and polyester or other filament substrates



Plasma silver coated yarns are very special.
If you need high quality and more precise coated yarn then plasma coated yarns are the right products.
Any filament yarn works well in plasma coating. Finest so far was a silver coating on PA 66 monofilament dtex 11 f 1 - coarsest is a PET high tenacity 1100 dtex multifilament yarn.
The conductivity of these yarns can be engineered to your request and is very regular along the yarn. Ideal for process management applications. The coating is very thin and ensures that the final product still has a textile touch.

Below:
Traditional gold tape yarn wound around core.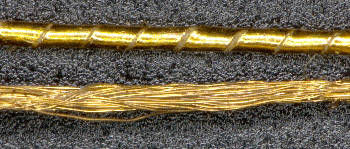 Above:
PET h.t. plasma gold coated multifilament yarn
dtex 150 f 48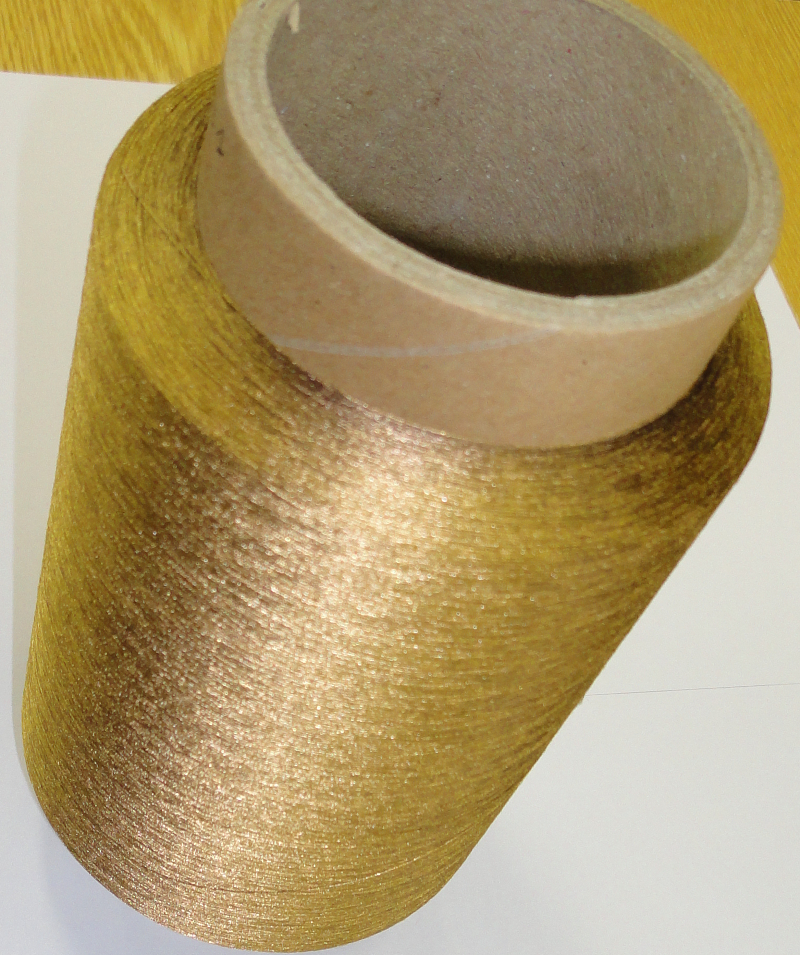 Picture of this yarn on a bobbin.
Plasma gold coated yarns on any multi- or monofilament substrate



Precious metals have always been of great interest to mankind. Imagine what products one can develop if a precious metal like gold had the properties of a filament yarn! This is no longer fiction - it is possible. Tersuisse - our supplier partner for high tenacity polyester yarns - has acquired the patents and the prototype equipment of EMPA Switzerland for plasma coating filament yarns with any metal.
End uses? Just a few ideas:
Fabrics for decoration, home furnishing, medical, engineering, jewellery, computing, electronic components, watches....
Why plasma gold coated?
Coating a filament yarn by the plasma coating method gives much better wear, it is a perfect level coating, little to no conductivity fluctuation, is easy to process in the textile chain and products on the fashion side have a wonderful noble appearance. Interested?
Plasma coated yarns - other metals
Tersuisse is in a position to metallize most continuous filament yarns in a new process called plasma metal coating, be it mono- or multifilaments. The metals and alloys which we have done so far are:
gold

silver

aluminum

inox 316L

copper

brass

titanium

chromium
In other metals there is no experience for the time being. The technicians believe that a nickel plasma coating should be possible too but it has to be re-confirmed with trials.
Polyester high tenacity spundyed colors
Tersuisse is today the only European producer of spundyed (non black) polyester high tenacity yarns.
Advantages are
proximity to the European markets

the flexibility to adjust to customers needs in terms of product creation or minimum quantities

the ability to create new colors (even exclusivities for a customer are possible)

the high quality level

the ability to offer twisted and plied yarns

their ability to offer taslanized yarns in the same color etc (eg. to give ropes a much better grip).
Click below for a bigger picture of the available shades
type 051
1244 fire red
dtex 1100 f 192

type X005
1548 noir
dtex 1100 f 192

type 051
1258 mid blue
dtex 1100 f 104

type 051
1289 field grey
dtex 1100 f 192
type 055
frog green 1549
dtex 830 f 104
type 052
noir noir 1551
dtex 1100 f 192
type 054
fluor yellow 1553
dtex 1100 f 192
type 053
yellow 1554
dtex 1100 f 192
type 053
azur 1552
dtex 1100 f 192
type 052
grey 1555
dtex 1100 f 192
type 053
orange 1557
dtex 1100 f 192
type 054
fluor green 1558
dtex 1100 f 192
type 053
navy 1560
dtex 1100 f 104
type 053
gold 1563
dtex 1100 f 104
type 054
fluor pink 1559
dtex 1100 f 104
type 053
silver 1561
dtex 1100 f 104
type 054
fluor lemon 1565
dtex 1100 f 104
type 053
emerald green 1564
dtex 1100 f 104
type 054
fluor white 1571
dtex 1100 f 104
no picture