FAQ
What is CORTERRA?
CORTERRA* is the trade name for polytrimethylene terephthalate (PTT), a thermoplastic that can be spun into both fibers and yarns. PTT belongs to a class of polymers called aromatic polyesters. However, CORTERRA Polymer is a unique product in that it behaves very differently than other polyesters.

In both carpet and textile markets, CORTERRA Polymers combine the chemical resistance characteristics that you can get from a polyester with the elastic recovery and resilience of nylon. CORTERRA Polymers also offer inherent stain resistance, are continuously printable and dyeable without specialty chemicals in a full color range, have good colorfastness against UV light, ozone and NOx, provide low water absorption and low electrostatic generation, and have the potential to be recycled, pending development of post-consumer recycling programs.

Many of these same properties make CORTERRA Polymers good candidates for conversion into film, non-woven fabric and monofilament. For engineering thermoplastic applications, CORTERRA Polymers can be compounded to provide performance properties and processing characteristics that are similar to polybutylene terephthalate (PBT).
How, when, and by whom were CORTERRA Polymers or PTT discovered?
PTT was first patented in 1941 by Britons John Rex Whinfield and James Tennant Dickson, two scientists with Calico Printing Ink, who were conducting a basic research program on polyesters.

Although the advantages of PTT have been known since the 1940s, PTT was never commercialized due to the nonavailability of a low cost source of the starting raw material, propanediol (PDO). Shell Chemicals was the first company to manufacture PDO, starting in the 1960s. In the early 1990s, Shell Chemicals developed an innovative means of producing PDO economically through continuous ethylene oxide (EO) hydroformylation
How does CORTERRA compare with other fibers?
CORTERRA combines the best properties of nylon and polyester. Whether used in carpet, garments, home furnishings or automotive fabrics, CORTERRA Fibers look better longer. Compared with other synthetic fibers like nylon and acrylic, CORTERRA Fibers feel softer, dye easier, retain vibrant colors longer, stretch and recover better. More important, CORTERRA Fibers resist staining, clean easily and dry quickly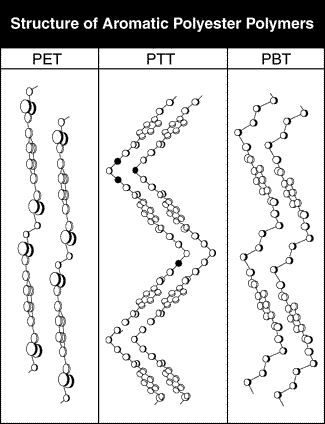 Why is CORTERRA "the fiber of the future"?
It is the first significant new material in the textile and carpet industry for some time. It provides manufacturers with a wider range of options for new products than they have now. As a stain- and static-resistant material, for example, CORTERRA PTT has those properties built in. These properties are not the result of additives. In carpeting, CORTERRA Fibers feel like wool and perform equal to or better than nylon 6,6. But they hold dyes much better, and that means manufacturers will have a wider color spectrum to chose from and produce carpets with a lasting, visual beauty. In apparel, CORTERRA Fibers offer performance that is equal to or better than nylon 6,6 and PET, including comfort fit due to superior stretch and recovery, excellent drape and softness and easy care due to stain resistance and a choice of care procedures.
The target of PTT (and PBT) is not to take market share for PA or PP but to change the consumers perception of polyester in general, to regain market share partially lost by polyesters previously poor image. Once textured:
PTT will have slightly more power stretch and recovery than PBT and more than PA 66, PA 6 and PES
PBT will have the best soft hand of all, as PBT will be close to PES
both can be easily dyed at 100°C and can be mixed with other fibers. They will offer stain resistance, chlorine resistance and a good resilience
Technical Info
Ø PTT filament yarns at similar dtex per filament are softer than PET – they are as soft as PA
Ø Softness comparison (+2 best/ -2 worst):
PTT +2
PBT +1
PET –1
PA 6/PA 6.6 +1
EA -2
Ø A PTT 3 dtex per filament is as soft as a PET with 2 dpf
Ø Fine filaments are less resilient, a compromise between stretch and softness is necessary.