LITRAX L2 THERMO


Pyrolized L2 Thermo - Litrax TWO series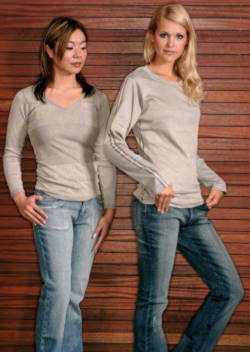 Key facts and advantage:
Quick and high insulation from 0.8 to 3.2 Clo

Rapid warming effect up to +28°C and beyond

Rapid increase of local blood circulation

High deodorizing effect due to porous L2 material

Excellent for underwear, pyjamas or sports clothing

LITRAX L2 THERMO keeps dry in summer & during sports

Blending possible (intimate fiber or yarn mix)

Thin padded winter jackets with high insulation capacity

Antibacterial according to JIS standard L1902-1998

Far Infrared absorption

Excellent Ultraviolet Protection (UPF 25)

Negative Ions (580 counts/cc)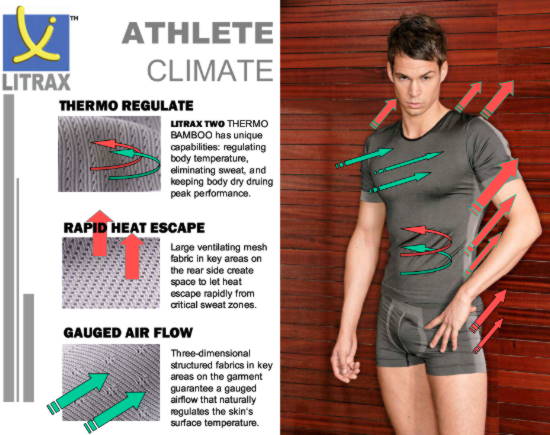 Frequently asked questions FAQ
How well does LITRAX L2 THERMO insulate?

LITRAX L2 THERMO provides exceptional clothing insulation properties in terms of the standard textile thermal insulation unit (clo unit). LITRAX L2 THERMO fibers can insulate from 0.8 to over 3.9 Clo, a unit of thermal insulation used for clothing. which can be projected in to a massive and unprecedented ~27.5°Celsius of raised temperature. The amount of insulation required to keep a resting person warm in a windless room at 70 °F (21.1 °C) is equal to 1 Clo.


How to test insulation?

EN13537 and ASTM1518-1985 methods, or with a thermo camera (for coloured effects)


What does the Clo unit mean?

The clo is a measure of thermal resistance. It measures the insulation provided by any layer of trapped air between skin and clothing and the insulation value of the clothing itself. 1 clo unit will maintain a sedentary man comfortable indefinitely in an environment of 21°C (70°F), 50% relative humidity, and 0.01 m/s (20 ft/min) air movement. Assuming no wind penetration and no body movements to pump air around, clothing insulation = 0.15 x weight of clothes in lbs. (i.e., 0.15 clo per lb of clothes). So 10 lbs. clothes = 1.5 clo. A thick business suit provides an average of approximately 1 clo of intrinsic insulation for the whole body. Common textiles such as shirts and pullovers display values between 0.5 - 1.1 clo while standard insulation values of bedding can be between 1.4 and 1.6 clo.

LITRAX L2 THERMO fibers insulate up to 3.2 Clo with fiber padding (filling of jackets, shoes) and could also be used for enhanced construction insulation.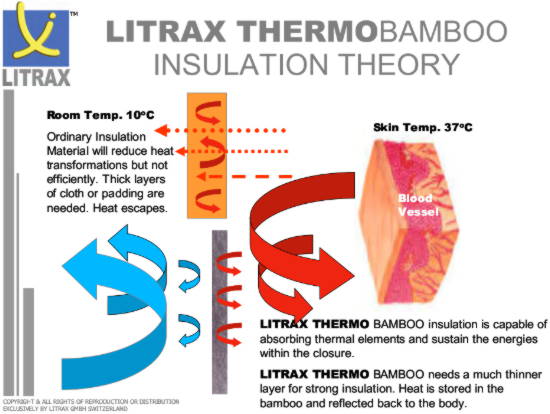 You can download the complete fact sheet and some additional yarn information in PDF form
Available products:
LITRAX L2 THERMO - fibers
| | | | | |
| --- | --- | --- | --- | --- |
| Art. descr | Dtex | Cut mm | type | Info |
| sd.rd | 1.7 | 38 | L2 PET | for ring spinning |
| sd.rd | 2.2 | 22 | L2 PET balls | for filling |
| sd.rd | 2.2 | 88 | L2 PET | for worsted spinning |
| sd.rd | 2.2 | 88 | L2 recycl. PET | for worsted spinning |
| sd.rd | 7.7 | 64 | L2 PET | |
LITRAX L2 THERMO - Spun Yarn
| | | | | |
| --- | --- | --- | --- | --- |
| dtex single | Count Nm | Count ECC | | |
| 118 | 85/1 | 50/1 | ring | 60/40% comb.Mako CO/ PET L2 |
| 118 | 85/1 | 50/1 | ring | 60/40% comb.CO/PET L2 |
| 148 | 68/1 | 40/1 | ring | 60/40% comb.CO/PET L2 |
| 197 | 50/1 | 30/1 | ring | 60/40% comb.US CO/PET L2 |
| 197 | 50/1 | 30/1 | ring | 60/40% comb.CO/PET L2 |
| 197 | 50/1 | 30/1 | ring | 60/40% CV/PET L2 |
| 295 | 34/1 | 20/1 | ring | 60/40% comb.CO/PET L2 |
| 295 | 34/1 | 20/1 | ring | 60/40% CV/PET L2 |
LITRAX L2 THERMO filament
Art. Descr

Dtex

Fil

twist
direct.

Ply

Base material

text

Info

sd.rd

44

14

0

PA6

flat HOY

nano silver anti bacteria

sd.rd

44

36

(S)

x 1

PET

SET

sd.rd

56

24

(S)+(Z)

x 1

PA6

HE

sd.rd

56

24

(S)+(Z)

x 1

PA6

HE

nano silver anti bacteria

sd.rd

56

72

(S)

x 1

recycled PET

SET

sd.rd

78

48

0

PA6

flat HOY

sd.rd

78

48

0

PA6

flat HOY

nano silver anti bacteria

sd.rd

78

48

(S)+(Z)

x 1

PA6

HE

sd.rd

78

48

(S)+(Z)

x 1

PA6

HE

nano silver anti bacteria

sd.rd

84

48

(S)

x 1

PET

SET

sd.rd

84

48

(S)

x 1

recycled PET

SET

br.tr

84

72

(S)

x 1

PET

SET

nano silver anti bacteria

br.rd

84

72

(S)

x 1

recycled PET

SET

sd.rd

84

72

(S)+(Z)

x 1

PET

SET

sd.rd

84

72

(S)+(Z)

x 1

PET

SET

black high temp. L2

sd.rd

84

72

(S)

x 1

PET

SET

nano silver anti bacteria

sd.rd

84

72

(S)

x 1

recycled PET

SET

sd.rd

84

72

(S)

x 1

recycled PET

SET

black high temp. h. load L2

sd.rd

84

144

(S)

x 1

recycled PET

SET

sd.rd

110

48

(S)

x 1

recycled PET

SET

br.rd

167

48

(S)

x 1

recycled PET

SET

br.rd

167

144

(S)

x 1

recycled PET

SET

sd.rd

167

144

(S)

x 1

PET

SET

nano silver anti bacteria

sd.rd

167

144

(S)

x 1

recycled PET

SET

sd.rd

167

288

(S)

x 1

recycled PET

SET

br.rd

330

95

(S)

x 1

recycled PET

SET