Leinefelder



Leinefelder is our partner for smartcel clima yarns and other specialities.

Company
"Leinefelder - The Yarn People"
The company defines and presents itself in a new way.
Textile innovation is the result of a passion for demanding materials, aesthetical colors and a perfected realization at the highest stage in the production process: the commitment of "LEINEFELDER - The Yarn People".
"LEINEFELDER - The Yarn People" face up to their customers quality demands. The present an extensive portfolio of dyed and un-dyed yarns. "LEINEFELDER - The Yarn People" - a synonym for an unmistakable quality. Customers appreciate the outstanding service, the reliability as well as the excellent integrity within the team.

Consulting
Premium yarns develop from a network of the most different partners. Our customers developments are a sensitive part of our co-operation and are realized in a reliable and creative manner by our own research and planning department as well as be the quality assurance and the sales department.
Topical fashion and the contentment of our customers by a prompt realization of product ideas is the result of a broad, creative and technological support.
"LEINEFELDER - The Yarn People": the premium partner for the textile demands of knitters, weavers and designers.
Quality

A matter of course for the highest demands as well as for solid fashion basics - the Quality.

It starts with the proper and responsible use of fibers and raw materials that represent a truly perfect yarn.
Environment and Certification
The highest demands on product benefits also require high demands on the product manufacture and the own supply chain. Therefore, quality and environment is a process which starts at the early stage of product designing.
The use of ecological harmless dyestuff and additives as well as the company's sewage plant for the dye works are contribution to an effective care of the environment. This has already been certified by independent institutes.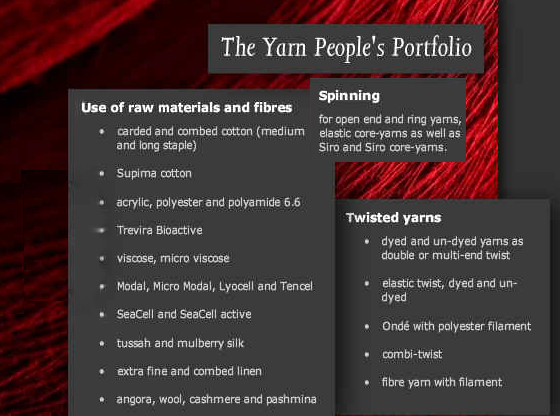 Leinefelder Comfort
Leinefelder Fashion Basics
Leinefelder Sport
Leinefelder Premium Elegance
Leinefelder Color
Leinefelder Medical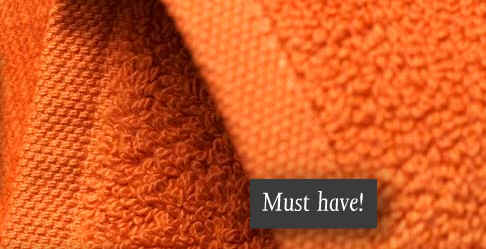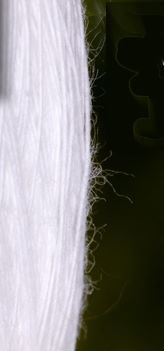 Leinefelder Color
Red, blue, green, pink, .....
blends

dyed yarns of the Leinefelder product range

according to the client's color pattern

dye lot sizes: 700, 270, 200, 100, 70 and 35 kgs