About Kermel® Fabrics
Kermel® fibre is used in heat and fire protective clothing dedicated to fire brigades, military, police and industrial workers worldwide. Often in clothing, Kermel® 70% meta aramid is blended with 30% FR viscose for enhanced fire resistance and wearer comfort.
Kermel®/FR Viscose - At a Glance
Protection - inherent round-the-clock protection, not just against heat and fire, but also against many acids and chemicals. Kermel® fibre will not melt or form molten droplets.
Non-Flammable - the Kermel®/FR viscose fabric itself is inherently non-flammable.
Thermostable - protective fabrics manufactured from Kermel® remain physically intact upon flame exposure with no hole or break-open.
Antistatic property - because FR viscose absorbs moisture, it gives the fabric good anti-static properties.
Durability - protective work wear using Kermel®/FR viscose is hard wearing and stands up well to abrasion.
Non-fade - because the fibre itself is spundyed, colors will stand up well to sunlight and repeated laundering.
Easy-care - protective fabrics manufactured from Kermel® are washable in normal commercial machines and do not require ironing.
Comfort - blended with FR Viscose, Kermel® provides outstanding comfort and softness.
Fabric Features
Kermel® is a high technological polyamide-imide, part of the aramid family. It is naturally non-flammable, which is a permanent characteristic thanks to its chemical structure including a high proportion of aromatic structures and combined double bonds.
The fibre has a very high resistance to abrasion, a thermal conductivity twice as low as any other aramid fibre. It also has an excellent resistance to chemicals. In addition, Kermel® is relatively strong against acid attacks, which makes it particularly useful in plants where acid splashing is a major hazard. When heated to very high temperatures, the fibre chars without melting or dripping, whilst retaining its structure and discharging very few fumes.
Kermel® is a smooth-surfaced fibre with an almost circular cross-section. This shape, as well as its modulus, makes it comfortable and very pleasant to the touch. Blended with 30% FR viscose, Kermel® makes it possible to manufacture truly FR uniforms. The fabric has excellent FR properties. Kermel® is anti-static and dyed without carriers. Kermel® does not pill, which means the garment continues to look as good as new for a long time.
Flame Retardant
Fabrics made from Kermel® fibre are permanently non-flammable and give excellent thermal protection against flame and radiant heat. They give an effective answer to safety requirements by giving the wearer extra time to fight or escape from the fire without suffering injury. Kermel has a limiting oxygen index of 32%. This means that a minimum of 32% of oxygen would be required to maintain the combustion of a Kermel® sample when exposed to flame in a vertical plane. As atmospheric air contains 21% of oxygen, any material with a greater value of limiting oxygen index can be considered as non-flammable. This property prevents combustion and therefore the propagation of fire to a wider environment.
Kermel® fibre does not melt, nor form molten droplets, and therefore will not stick to the skin. Instead, it will slowly carbonize. If Kermel® fabric remains in a flame, it will blacken and become slightly more rigid, without shrinking or forming droplets. The textile structure loses its mechanical properties but maintains its structure, which is an essential point for use in protective clothing. These characteristics allow Kermel to ensure a high level of protection, even after exposure to an intense heat flux.
Kermel® fibre maintains its mechanical characteristics well beyond the melting point of most synthetic fibers. It is necessary to reach a very high temperature to notice a complete degradation of the fiber. At 400ºC, only a 5% loss of weight can be registered with a thermo-gravimetric analysis at 5ºC per minute.
Resistance to Chemicals
Kermel® gives good resistance to cold acids, even when concentrated, and good resistance to low concentrations of cold alkalis. It also resists most solvents (except phenols and solvents that are very polar), chlorine bleach, detergents and water vapor. These characteristics make Kermel® the fibre of choice in chemical plants where acid splash risks are important considerations.
Usage Guide
The table below is intended as a guide only for Kermel® Industrial Protective Wear fabric and its suitability for nominated industry sectors.
| | |
| --- | --- |
| Garment | Kermel® Products |
| Industry | |
| Smelting | |
| Fire Fighting | |
| Emergency Services | |
| Airport Refuelling | |
| Petrochemical | |
| Electric Utilities | |
Care
Washing Instructions
Suggested washing instructions are given below:
Do not use soap.
Wash in hot water using synthetic detergent.
Rinse in warm water.
Do not boil.
Do not use chlorine bleach.
Tumble dry on warm setting.
Warm iron - no steam.
Avoid over-drying.
Normal dry cleaning is acceptable
Kermel is ISO 9001 certified - for viewing a bigger picture please click below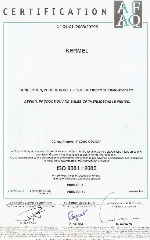 Oekotex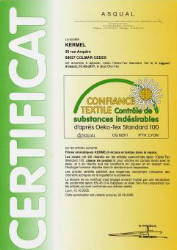 Here you may download also the MSDS if needed