Interfil Srl


Interfil srl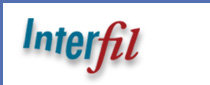 Company profile
The company commercializes threads and dyed yarns. Interfil has an longterm experience in dyeing Miroglio's flat and textured polyester yarns and Du Pont's nylon filament yarns.
The color range includes 4'000 shades and up to 10'000 can be reproduced in order to give the customers the color required.
Interfil srl is also specialized in supplying MICRHON® dyed yarn and MIRHON® multifilament yarns.
New colors can be reproduced without any restrictions and they can be tested on several articles. The company can supply samples and reels in order to allow the customer to assess the hue and the coat of the colors.
The program of Interfil can be downloaded here
For the different shade cards please click on relevant one below to get a bigger pictures dyed polyester filament yarns
| | | |
| --- | --- | --- |
| TRILON polyester flat | | |
| GLASS polyester flat, bright, rectangular cross-section | | |
| Polyester bright and dull | | |
| TEXLUX polyester textured | | |
| Compact Cotton Ne 40/1 | | |
| Compact Cotton Ne 70/1 Indanthrene | | |
| DOT Linien Nm 26/1 and Nm 39/1 | | |
| Yarn dyed Linen Nm 26/1 and Nm 39/1 | | |
| Gassed Jute Nm 7/1 | | |
| LINTENDA - 80/20% Polyester/linen Nm 30/1 | | |
| VENERE Polyester monofilament yarn dyed dtex 22 f 1 | | |
| Rayon viscose dope dyed dtex 110 f 25 | | |
| Rayon viscose dope dyed dtex 167 f 40 | | |
| Rayon viscose yarn dyed dtex 110 f 25 350 tpm & dtex 84 f 30 350 tpm | | |
Please click above for a bigger picture
Dyeing machine load capacities - please download the PDF file here